---
Cara Mudah Mengganti Favicon Genesis
Posted: 21 Sep 2014 01:29 AM PDT
Genesis adalah salah satu theme yang banyak digunakan blog-blog berplatform WordPress. Theme premium ini tampil dengan favicon (ikon yang muncul di kiri atas browser) bawaan berupa huruf G putih dengan latar belakang hitam. Tentunya, favicon ini tidak nyambung dengan blog Anda jika nama domain blog Anda bukan diawali huruf G. Selain tidak nyambung, blog Anda juga terkesan kurang elok karena favicon-nya sama dengan blog-blog orang lain yang menggunakan favicon bawaan Genesis.
Bagaimana cara menggantinya? Di bawah ini adalah tahapan-tahapannya:
A. Instal Plugin Genesis Favicon Uploader
Dengan menggunakan plugin ini Anda akan mudah mengubah favicon Genesis karena Anda tidak perlu mengedit php child theme atau mengunggah favicon lewat hosting yang Anda gunakan. Cara instalnya sebagai berikut:
1. Login ke blog WordPress Anda yang menggunakan theme Genesis.
2. Pada Fitur Plugins, pilih Add New.
3. Akan muncul tampilan Add Plugins. Pada kotak Search Plugins, ketik Genesis Favicon Uploader lalu tekan Enter pada keyboard komputer Anda.
4. Akan muncul deskripsi singkat plugin tersebut. Pada deskripsi ini, klik tombol Instal Now. Selanjutnya tekan tombol OK jika muncul pertanyaan "Are you sure to you want to install this plugin?"
5. Setelah sukses terinstal, aktifkan plugin tersebut dengan mengkilik Activate Plugin.
B. Buat Gambar untuk Favicon
6. Buat gambar yang akan Anda jadikan favicon. Anda bisa membuatnya di Photoshop atau Paint. Ukurannya terserah selera Anda, namun saya biasa membuatnya dengan ukuran 50×50.
7. Simpan gambar tersebut di komputer Anda. Gambar ini akan diubah menjadi favicon secara online.
C. Buat Favicon
8. Untuk membuat favicon, kunjungi http://www.favicon.co.uk/
9. Pada bagian Source image, tekan tombol Browse dan pilih gambar yang telah Anda simpan pada tahap ke-7.
10. Setelah gambar terseleksi, pilih ukuran favicon atau biarkan pada ukuran favicon 32×32.
11. Klik tombol Generate Favicon.
12. Unduh favicon yang dihasilkan. Favicon ini akan tersimpan di kompter Anda sebagai favicon.ico. Jangan ganti nama file tersebut (misalnya menjadi faviconblog.ico atau favicon1.ico) karena nantinya tidak akan bisa mengubah favicon bawaan Genesis.
D. Unggah Favicon
13. Pada fitur Genesis, klik Upload Favicon.
14. Akan muncul tampilan Genesis – Favicon Uploader. Klik tombol Browse dan pilih favicon yang sudah Anda unduh pada tahap ke-12 tadi.
15. Klik tombol Upload Favicon.
16. Akan muncul tampilan yang menginformasikan bahwa favicon telah diunggah. Contohnya di bawah ini.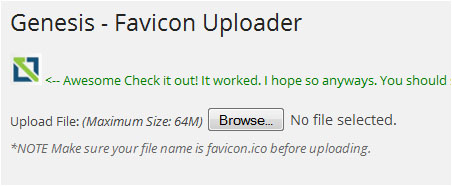 17. Buka blog Anda sehingga Anda tahu bahwa favicon bawan Genesis sudah terganti.
Selamat mencoba! Jika Anda masih kesulitan mengganti favicon bawaan Genesis, silakan Anda menginformasikannya pada bagian komentar.

Related Posts:
You are subscribed to email updates from Blogodolar
To stop receiving these emails, you may unsubscribe now.
Email delivery powered by Google
Google Inc., 20 West Kinzie, Chicago IL USA 60610